Balloon Elegance Sydney
Our partnership with
Balloon Recycling Australia
We are very excited to have partnered with Balloon Recycling Australia to bring our business in line with the environmental and sustainability expectations of our community and Government laws. In the short time since partnering with Balloon Recycling Australia we have
eliminated 130 Kilos of waste
that would have gone in to landfill.
Get a
free

quote for your  party balloon decorations
Make any event more photogenic and memorable with a balloon display. Customisable to fit you and your needs, transform your next special occasion with Balloon Elegance. 
Balloon designs and creations that make any personal event spectacular. Birthdays, Bar Mitzvahs, children's parties, christenings, school formals, weddings, engagements. Transform any occasion into a cherished memory with a balloon garland or arrangement today!
Balloons for corporate

events
DESIGN. CREATE. INSTALL.
Create a professional and cohesive look to any trade show or corporate event with promotional balloons displays and custom printed balloons. Arrange an awe-inspiring national product launch with a simple phone call to us. With rich experience in creative designs for Gala dinners and award events, dazzle guests with a corporate balloon arrangement with Balloon Elegance.
Balloons with Lights
Light up any function with LED balloons. Perfect for weddings or other celebrations, add that wow-factor with LED balloons. Balloons with lights are great for centrepieces and add a glowy atmosphere to any room.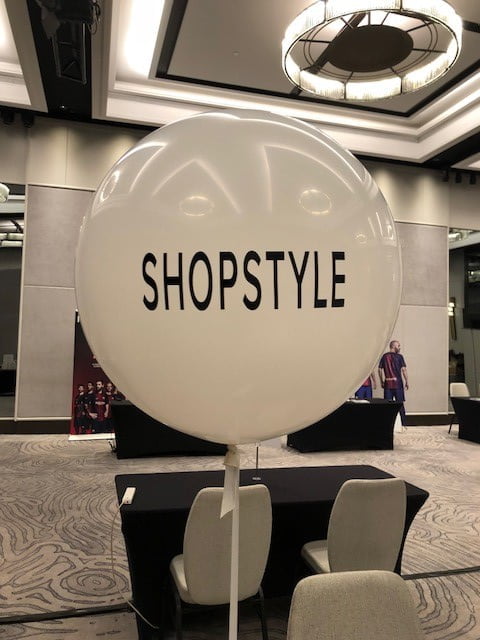 Custom Printed Balloons
Custom printed balloons are the perfect way to add extra colour, personality to an event. They can be used for promotion (e.g. shopping centre displays) or to celebrate special events like birthdays, engagements or more.
Organic Balloons
Freeform, organic balloon design has 'blown up' in popularity over the last few years, with no signs of slowing down. Using shape, texture and movement, organic balloon garlands add a touch of magic to any event.
Balloon Bouquets for
all occasions
Custom design your perfect balloon bouquets and floor standing balloons for your next major event. See our full range by checking out our Gallery page.
For same day orders and deliveries, please call us now
All other online orders, head to our Contact Us page
Balloon Elegance
News and Articles
Now that you have decided to have something beautiful created from balloon art decoration for your special occasion, like a true artist you must consider your empty canvas and visualise what you'd...
read more
Send someone you care about a balloon delivery. A bouquet of balloons is a fun way to brighten anyone's day. There is nothing quite like a big helium balloon delivery to put a smile on the face of a friend, family member or colleague.
Balloon Elegance can organise a fantastic bouquet of helium balloons for delivery (Monday – Friday). You don't have to leave your home or workplace to order a balloon delivery with Balloon Elegance. Order your balloons by phone, e-mail or make an online balloon delivery request via our website.
We are very excited to have partnered with Balloon Recycling Australia to bring our business in line with the environmental and sustainability expectations of our community and Government laws.
While latex balloons are 91% pure latex which do degrade over time, it doesn't help in the reduction of landfill in the short term.
Balloon Recycling Australia have developed a process to recycle not only latex balloons but foil and plastic bubble balloons which are very popular. Balloon Recycling Australia is the only company in Australia and around the world that recycles all types of balloons and does so at their plant in Brisbane, Australia , they do not send any waste overseas or greenwash as many do.
The recycled latex and foil flakes are used in non- structural concreting, epoxy flooring and toys to name a few. Businesses that can use recycled balloon flakes actually get carbon credits for their business which is an added bonus for them rather than having to bring fillers in from Overseas.
In the short time since partnering with Balloon Recycling Australia we have eliminated 130 Kilos of waste that would have gone in to landfill.
If you want to add fun and elegance using balloons at your next event but also want to use a company that is progressive in providing a sustainable option then we are waiting for your call.
If the company you choose is not recycling, you should ask why not? If they are recycling with any other business and not BRA can they assure you that they are not greenwashing or sending the waste overseas. Let's support an Australian company that is completely transparent in the whole process of recycling.
Attached is the link to www.balloonrecyclingaustralia.com.au for more information.
RECYCLING IS THE WAY TO A HEALTHIER ENVIRONMENT AND PLANET.
Maureen & her team have been nothing but amazing! well priced, delivered on time & the balloons looked incredible! thanks again! will 100% be back 🙂
Balloons add an element of joy to every special occasion there is. Children's birthday parties, 21st birthdays, weddings, engagements, 'going away' parties, job promotions, college graduations, new arrivals, Valentine's day – simply every event or occasion deserves to be celebrated with balloons!
Balloon Elegance
News and Articles
Now that you have decided to have something beautiful created from balloon art...
read more
Balloon Elegance works along side many creative stylistsWhether you have a...
read more